Imhabba is all you need Poster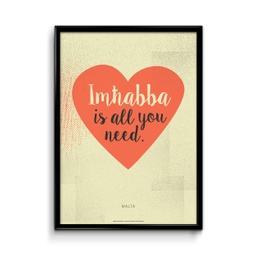 Imhabba is all you need Poster
29.7 x 42cm (A3), offset print on matte, 170gsm

Even cosmopolitans get homesick, so we've created this remedy for you: take some Malta love home and put it on display. A prime example of the hybrid character of the Maltese language, Imħabba (pronounced "im-hab-uh") is the local word for "love" and comes from the Arabic mahábba. It's really all you need on your wall.

All unframed posters are shipped rolled in a cardboard mailing tube.

Framed posters may take up to 15 working days to be shipped.